#NODACA #NoAmnestyforIllegals is at the top of ATP's 2018 agenda.
Please do two things: Join this call on Wednesday, 1/3 at 8 EST (see below) and please become a
Heritage Sentinel
to join our 5:30PM calls on Monday or get the podcast so you are up to date on legislation and Action we must continue to take.
Please Plan To Join This Important Conference Call Regarding Proposed Amnesty for Illegal Aliens on January 3rd at 8PM EST
WHO: YOU! State Advisors and Activist Leaders from around this great nation!
WHAT: Please join the FAIR Staff on a very important Conference Call to discuss the impending Amnesty-DACA Bill being proposed in Congress.
FAIR Government Relations Director, RJ Hauman, is on Capitol Hill every day and will share the most up-do-date proposals being made in Congress.
We will discuss strategy and how best to fight the looming Amnesty proposal . Please don't miss this opportunity to be given the latest information so we can fight this successfully together!
WHERE: 888 330-9549 enter passcode 1660622 and the # sign.
WHEN: January 3, 2018
8PM Eastern
7PM Central
6PM Mountain
5PM Pacific
Best,
Joyce Mucci
www.fairus.org
(202) 531-7521 cell
(202-328-7004 office
-------------------------------------------------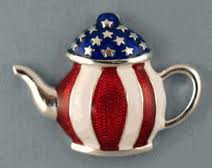 Tea Time will resume on Thursday, January 11, 2018 at 6 PM atIHOP, 229 Airport Road, Arden. Please note ... January 12th Tea Time is a change of date. Please make a note of it. Thanks and stay warm!
. We've much to do starting with a very busy January.