The gun grabbers - the good comrades - never let a crisis go to waste. The tragedy in a Florida high school in a
Gun Free Zone
- once again - is no exception. Obamination was the greatest gun salesman during his eight year miserable reign. So let's send another message to these liberal progressive dopes. We will continue to push
back on all unconstitutional laws restricting our inalienable right to bear arms from both the Dimms and RINOs. The tragedy in Florida is a School Safety issue. Not a Second Amendment one!
With a ticket for the
Glock43
, you continue to help ATPAC to support good constitutional conservative candidates who will protect your 2A rights - especially if you live in Buncombe. Nothing but Socialists running for Sheriff and one who encouraged his supporters to hunt down CCP holders! Outrageous!

This is our way of supporting 2A rights and only those constitutionally conservative candidates who walk unafraid to honor their oath.
The G43 is the most highly desired and anticipated release in GLOCKs history.
Ultra-concealable, accurate and fantastic for all shooters.
1 Ticket for $6. 2 Tickets for $10.
Or checks can be mailed to ATPAC c/o J. Bilello, 218 Vincent Place, Hendersonville, NC 28739. (828 692 3117)
* Draw at We Read the Constitution Day, Saturday, September 15, 2018
at Fletcher Park. Big event with many speakers. Details TBA after the Primary Election. Family fun and free event.
The G43 is the answer to your everyday concealed carry needs.
It's ultra-concealable, accurate and fantastic for all shooters regardless of hand size. The grip has a built in beaver tail design which allows the shooter to acquire a high and tight grip. The aggressive texture of the grip lets the shooter more easily operate the pistol.
The large magazine catch allows for easy removal of the six round magazine. Engineered to the same standards, the G43 can withstand the same tortures as other GLOCK pistols.
Thank you for your unwavering support!
Questions? Call Jane 828 692 3117.
* Winner need not be present. Winner must be at least 18 years of age, have a valid CCHP, or Sheriff's permit. If out of state, winner responsible for handling fees between licensed gun dealers.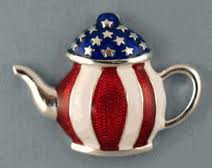 Reminder: Tea Time resumes May 10th, 2018 at 6PM at IHOP, 229 Airport Road, Arden.