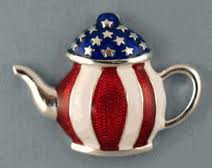 It looks like flooding and ice will cancel Tea Time This Thursday, November 15, 6PM at IHOP, 229 Airport Road, Arden. 🙁
We'd rather be safe than sorry. Stay home.
We have lots on our plate. Come to our meetings to get involved. Please check Facebook pages
here
and
here
, and
Twitter
, our websites
here
and
here
, and the newsletters for the latest. Get tickets for our
AR 15
too!
Meeting Schedule for Nov/Dec
(No meeting Thanksgiving Day, Thursday, November 22nd.)
Tea Time Thursday, November 29th at 6PM at Mills River Restaurant, 4467 Boylston Hwy, Mills River, NC 28759.
Tea Time Thursday, December 6th at 6PM at IHOP, 229 Airport Rd, Arden, NC 28704.
Christmas Party Thursday, December 13th at 6PM - 9PM at Hickory Tavern,
We will be having two socials per quarter in 2019. One in Asheville and the other in Hendersonville. If we like Hickory Tavern, we can have our Asheville socials there. In Hendersonville, The
Loft Cafe and Pub
is a great fit at 111 Joel Wright Dr, Hendersonville, NC 28792. In addition, we want to have two Tea Time meetings a month. Come to our Nov/Dec meetings to help us to decide our schedule.
See
Event Calendar
for list and GOP Events and Christmas Parties Happening in December.
* Note: BCRWC needs your reservation for Asheville Country Club by 11/19 for 12/6 Christmas Party.
Big News of the Day ...
159 Dim Wits in the US House Elected #Rino #SwampThing McCarthy (
F 41% Conservative Score
) as Minority Leader. Like the other RINOs who lost their seats last week ... the
@GOPHouse
just sealed their fate. McCarthy doesn't have the support of #WeThePeople and his bad track record shows he does not support #POTUS agenda. All the more reason NOT to vote for any of them.
List of the 159 will be coming.
GOP Fails ...
The Federalist:
Republicans Shot Themselves In the Feet with Pre-Existing Conditions
News You're Going to Like ...
And don't forget ...