How You Can Honor the Fallen This Memorial Day
Thomas Callender
Senior Research Fellow for Defense Programs
Thomas Callender focuses on defense programs pertaining to Naval warfare and other advanced technologies.
This weekend marks the 150th anniversary of that first "Memorial Day" remembrance, when Congressman James Garfield-who would later become president-addressed a crowd of more than 5,000 at Arlington Cemetery.
The tradition continues to this day at national cemeteries across the nation, with the president of the United States most often delivering the address and laying a wreath at the Tomb of the Unknown Soldier.
To millions of Americans, Memorial Day symbolizes the unofficial start of summer-the opening of the local community pool, baseball games, concerts, barbecues, and trips to the beach.
Regrettably, a Gallup Poll in 2000 revealed that only 28 percent of Americans knew the true meaning of Memorial Day, and 40 percent confused it with Veterans Day.
So, what is the meaning of Memorial Day?
-----------------------------------------------------------------------------------------------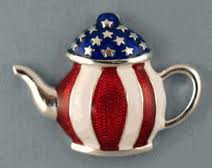 Tea Time resumes June 7th at IHOP, 6PM 229 Airport Road, Arden. ATP on vacation until week of June 4th. Until then, please like and share posts on our Facebook pages
Asheville Tea Party here
and
Asheville Tea PAC here
. Please retweet our posts on our Twitter page
here
.
@AshevilleTeaPty
. This week's newsletter below. Thanks!
Summer Schedule for Tea Time Meetings:
Thursdays, IHOP 6PM Thursdays: 6/7, 6/14, 7/12, 7/19.
Mills River Restaurant: Next Meeting: Thursday, 7/26