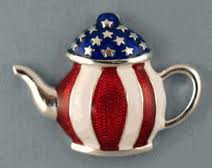 Tea Time is cancelled Thursday, 1/18/18 due to ice and freezing temps. Stay in and be safe.
However, that doesn't mean you're off the hook.
Please call Rep Patrick McHenry and urge him to support the Goodlatte Bill,
Securing America First Bill.
We need to get it to the floor for a vote.
Also let Rep Mark Meadows R-NC11 know that you support the Goodlatte bill.
@RepMarkMeadows
(202) 225 6401
Freedom Caucus Demands Immigration Reform Bill For Stop Gap Government Funding Bill
MEDIA ADVISORY:

Rep. Meadows on Morning Joe, Situation Room Thursday, 1/18

Washington, D.C. - Rep. Mark Meadows (R-NC) will interview on MSNBC's Morning Joe and CNN's The Situation Room with Wolf Blitzer, Thursday, January 18. For more details, see below:

Details:

MSNBC - Morning Joe

Thursday, January 18, 7:05am

To learn more about the show, click

here

CNN- The Situation Room

Thursday, January 18, 5:00pm

To learn more about the show, click

here
Please continue to also call leadership and let President Trump know you support the bill. Detailed info
here.
The message below
Below are a few points about the bill, (related articles and materials)
Among other things, The Goodlatte Bill - Securing America First, H.R. 4760:
1. Ends Chain Migration 2. Cuts off law enforcement grants to Sanctuary Cities 3. Abolishes Diversity Visa Lottery 4. Authorizes Full Border Wall 5. Requires E-Verify 6. Allows a limited number who meet all DACA criteria to pay fees to obtain a renewable 3 yr work permit, but not a special pathway to green card or citizenship
---------------------------------------------------------------------------------
Thanks for participating in the Tweet Media Blitz Tuesday,1/16.You can still use Twitter and Facebook to send messages to leadership and Rep Patrick McHenry
@PatrickMcHenry.
Retweet
@AshevilleTeaPty
and
@citizFreedomCauc