Reminder: Tea Time Tonight at IHOP at 6PM with our NC10 Candidates. Need your input. Thanks.
Regardless of what district you live in, this election affects all of us. We need to grow our conservatives in the House to support the Freedom Caucus and the mandates of the 2016 election! Help to make that happen.
Topic: Coalescing around ONE conservative candidate to win.
------------------------------------------------------------------------------------------
Meeting preview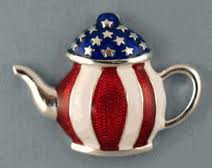 Tea Time Thursday, 2/15/18 at 6PM at IHOP, 229 Airport Road, Arden.
Special Guests:
NC10 Candidate Seth Blankenship.
NC10 Candidate Ira Roberts
Ira did an awesome job at articulating the conservative message.
Topic: Coalescing around ONE conservative candidate to win.
Agenda:
Candidate Primary List (your input welcome)
Endorsement decision for NC10. (It won't be these two!)
See Facebook What Really Happens at Planned Parenthood.
More updates on progress for
Republicans have had complete control of Washington for just over a year, and already we are returning to Obama-era deficits and debating a massive amnesty
for millions of illegal aliens. When they are in the minority, the are fiscal hawks. In the majority, they are on an equal par with the Dimms. The massive and irresponsible budget deal is as bad as the Obama budget in 2009. This is not what we voted for - Interchangeable parts of liars and thieves!
Thursday, Feb 22nd: Rebecca McCall, candidate for Henderson County Commissioner
for the retirement seat of Commissioner Tommy Thompson, will be
our guest to answer your questions on Thursday, Feb. 22nd at our Tea Time Meeting at Mills River Restaurant.
If you are in Henderson County, you don't want to miss this meeting.
Public and community service message:
Please check out our
Event Calenda
r here for the time, date and location of GOP Conventions and Meetings in Buncombe and Henderson counties.
If you're not part of the solution, you're part of the problem!