#NCGA: WWThD (What Will Thom Do?) Daily Haymaker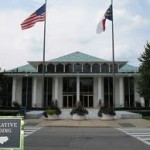 The North Carolina Senate has voted to send one heck of a hot potato over to the NC House. The economic development package creates a new method for handing out corporate welfare — a practice we frown upon in these parts. But one part of this legislation has us smiling — a cap on local governments' ability to raise sales taxes. In our households and businesses – when we don't have enough money to accomplish what needs to be done — we cut our existing expenses to produce extra funds. Governments, though? They simply reach out to shake us down for a little more dinero to feed their, um, needs. The limit on taxing power has the drive-by media and their fellow big government travelers a wee bit upset:
http://dailyhaymaker.com/?p=8599
---------------------------------------------------------------------------------------------------------
"Eat" Your Toll Road. It's, Um, Good for You! Daily Haymaker, July 24, 2014
Gov. Pat McCrory trotted out NCDOT secretary Tony Tata to defend the wildly controversial I-77 "HOT lane" tolling project in Mecklenburg County. (McCrory, House speaker Thom Tillis, and speaker pro tem Skip Stam have all advocated passionately for toll roads as a method for financing construction and maintenance of state roads.) :
State transportation officials are defending a controversial plan to add a High Occupancy Toll lane on Interstate 77.

On Wednesday, North Carolina Department of Transportation Secretary Tony Tata made a presentation to a local transportation committee where he announced the construction of the HOT lane is expected to use 50-100 local firms and would create 15,000-20,000 direct and indirect jobs over the next few years.

"The main reason people should support this is that it will provide congestion relief in four years to an area that is hugely congested," Tata said. [...]
Four years? And what if it doesn't? You've signed a FIFTY YEAR deal with the Spanish contractor. Tata also talked dollars and cents:
Tata also addressed the media directly for the first time since announcing the public-private partnership with infrastructure development company Cintra, which will foot more than half billion dollars of the project.Taxpayers will pay for $88 million of the 26-mile project, Tata said.
Continued: "Eat" Your Toll Road. It's Um Good For You!http://dailyhaymaker.com/?p=8592
--------------------------------------------------------------------------------------------------------
Rs Channelling Easley, Perdue to Defend Corporate Welfare: http://civitasreview.com/economics/rs-channelling-easley-perdue-defend-corporate-welfare/